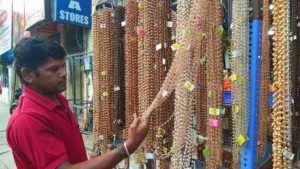 With just a few days to go for the month of Karthigai, Sri Vijaya Stores in North Mada Street has started selling all the necessary items required for the devotees of lord Ayyappa.
This is the time of the year when these devotees begin their 41-day vrittam ahead of their annual pilgrimage to Sabarimala.
A wide range of neck chains with tulsi and sandal beads, Ayyappa coins made of brass and silver-coat, black and brown coloured shirts, dhotis, and CDs of devotional songs of lord Ayyappa are on sale here.
The cost of the beaded chains starts from Rs.90.
At 78, North Mada Street, Mylapore. Open from 9 a.m. to 9 p.m. Ph:24957555