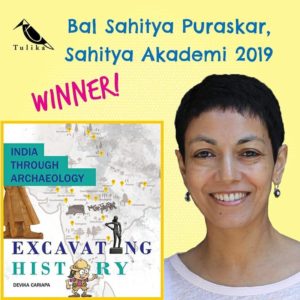 The Sahitya Akademi's Bal Sahitya Puraskar awards ceremony is being conducted in Chennai on Nov 14 evening at Bharatiya Vidya Bhavan, Mylapore.
At this event, some of India's brightest writers for children will be recognised with the national award which is given annualy. The event is open to all.
Among the awardees is Delhi-based Devika Cariappa ( seen in the photo here) for her book – India through Archaeology: Excavating History – published by Tulika ( which is based in Alwarpet).
Devika will on Saturday ( after the awards event) hold a workshop for children at Tulika's store, sharing anecdotes based on her book. The event is in Nov.16, 11 a.m. onwards. Call 98409 09228. Address – 305, Manickam Avenue, Alwarpet.