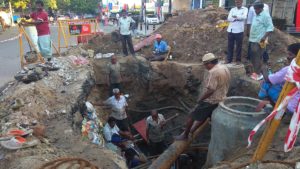 The underground civic repair work at a Mandaveli junction is creating frequent traffic snarls ; this is taking place at the junction of South Canal Bank Road and R.K.Mutt Road.
A large area alongside the petrol bunk on South Canal Bank Road has been dug up some days ago.
Mallika of Mylapore, said that the traffic jams here were happening frequently after the underground repair work started."It is very frustrating," she said.
For the past week, contract workers of the civic agencies and of BSNL have been at work here.
A BSNL official, who was at the site said that a private ISP damaged some of their underground cables.
"Airtel damaged five of our cables that carried over 2000 telephone and broadband connections to the Mandaveli areas. And since there was a leakage in an underground sewer line, it took us so many days to locate the fault at the cables," he said.
The official said that the fault has been located now. "The issue will be solved in 24 hours," he said.