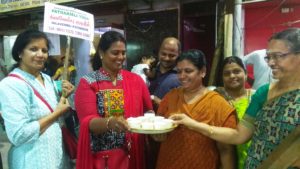 On Dec.9 evening, Bharatiya Vidya Bhavan's Patanjali yoga group distributed nilavembu kashayam to the public near Sri Kapali Temple, Mylapore.
As the Siddha medicine made using ingredients, including vetiver, jeera, and neem is generally taken for the prevention of viral fever/infections, many people had the khashayam that was served free of cost.
Said Kamala, a member of the group, "To ensure that people are healthy this monsoon season, we are distributing the kashayam."
She said that members of the group sponsored for carrying out the activity.