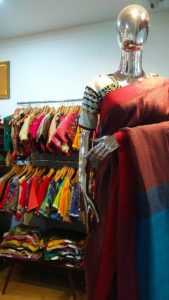 'Madras Maharaani' has made a name for itself for its ready-made blouses has launched its second store in Alwarpet. There is one in T. Nagar.
A client can send by WhatsApp a picture of the sari for which a blouse is required and the store mails back their suggestions for blouses. The number to use – 7358562505.
The shop also arranges for alterations that are required for blouses.
Bridal, embroidered and contemporary blouses are available in fabrics of Banaras, Ikat, Kalamkari cotton and silk cotton. The prices of readymade blouses start at Rs. 1000.
Sara Alambara, a R. A. Puram resident launched her first store in T. Nagar six years ago.
She says,"I always wanted to have my own business. When I started I just had an aesthetic sense of clothing. Over the years, I learnt the different aspects of retail business. My goal is to help women choose a saree with a matching blouse at a store and buy clothes at affordable rates."
Sara says she works with traditional weavers of Bengal, Orissa and other parts of India to produce the saris and blouse pieces with contemporary designs. Says Sara, "Today, working women prefer such clothing."
At the Alwarpet boutique, there is table space where clients can spread out the saris and keep rotating the sets of blouse material they have chosen to arrive at the best choice.
The saris on sale here include soft silks and hand-woven linen, khadi, Banaras, Jamdani, silk cotton, and Ikat cotton. There are saris in Batik print and in digital print. Salwar suits and kurtis are also sold here.
So why is the store named 'Madras Maharaani' ?
Says the mechanical engineering graduate and entrepreneur, "I grew up in this city and I love everything about the city, from its heritage buildings to the Marina beach. The name ( of my store) is my way of keeping alive the old name of this city."
The store is located at Chennai Corporation Complex, 77, C. P. Ramaswamy Road, Alwarpet.  Ph: 7358562505