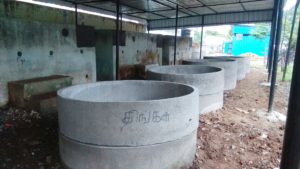 The team at Division 126 of Chennai Corporation recently built a compost yard on the side of Sringeri Mutt Road alongside the campus of Mandaveli MRTS.
Cement rings, dedicated to recycle each day's inputs and a few compost pits have been set up here.
A Material Recovery Facility (MRF) centre has been set up next to it – it handles recycling of waste collected from this neighbourhood.
They have also built a shed over these structures to protect them from rain.
Says Kavitha, the animator of division 126, "Everyday, conservancy workers collect the segregated waste from the houses and bring it here. On average, we receive 100 to 150 kilos of bio-degradable waste a day. It is fed into these compost structures."
"Later, we mix the biodegradable waste like dried flowers and vegetable peels with cow-dung water. We also sprinkle a solution (a mixture of water, curd, and jaggery) to keep the mosquitoes away," she says.
The areas of waste collection covered by the team include Sringeri Mutt Road, Venkatakrishna Road, Jeth Nagar and Vinayagam Street.
Civic activist C.R. Balaji of Mandvelipakkam says this development of putting the public place to good use is welcome.
Says Balaji, "Two years ago, it used to be a dump yard filled with abandoned vehicles and debris. I joined volunteers of Arappor Iyakkam and of Nizhal and some residents of Jeth Nagar to get Chennai Corporation and Southern Railways to get the dump cleared. Creating a compost yard is a timely step."