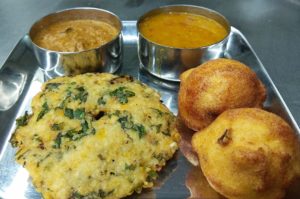 A vegetarian restaurant offering South Indian food has opened on Venkatakrishna Road in Mandaveli.
The promoters of Manthra Marriage Hall, that has been here in the business for 25 years have set up this cafe.
Operating in a kiosk format, it has space to seat 25 people.
Says M. Karthik, managing director of Manthra,"We started the cafe as we saw a demand for good South-Indian food in this area."
"Providing food that tastes like home-cooked food is our goal. We do not use any artificial flavours," he adds.
All the food items are prepared in their kitchen on the ground floor. Lunch options include meals, variety rice, sambhar and curd rice. A meal is priced at Rs.80. Evening snacks include keera vadai, bajji and bonda.
Soon the restaurant will also have a cooking counter for dosas. "We plan to offer 25 varieties of dosa which will include paneer dosa, vegetable dosa and more," says Karthik.
Manthra hires out a hall that can accommodate about 250 people. The rent is Rs 40,000 for half day.
Manthra arranges breakfast and lunch to clients who hire this hall and need this service. But you can choose to have your own catering organised. The restaurant also takes orders for parties and community events (minimum order is 50 plates). It also provides door-delivery within a 3 km radius.
At 23, Venkatakrishna Road, near Mandaveli MTC bus terminus. Ph: 2464 2525. Timings: 7 a.m. to 10 p.m.