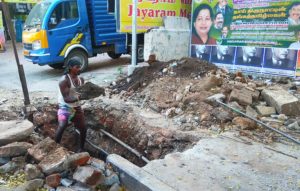 For the past few days, Chennai Corporation's contract workers are desilting storm water drains (SWD) alongside San Thome High Road which seem to have been filled up with muck and debris and blocked free flow of rainwater.
The road is always flooded in the monsoon season because the facility to drain water has been poor.
Now, a section of pavement near San Thome MTC bus stop has been dug up for the current civic work.
Rainwater was seen stagnating during the recent rains nearabout Venkataswamy Street, off San Thome High Road.
Workers say it will take about a week to complete the job.
Meanwhile, people who use this part of the road say that more solid protection of the dug up area is required when work is in progress and not just flimsy tape to warn people of the excavated pavement area so that they keep off this section.
Said Sita, a resident of San Thome, "Barricading the dug-up area  with a light tape is not enough. This is a busy area and the dug-up drains pose a big danger for pedestrians at night."