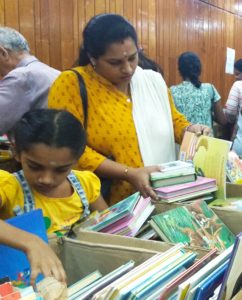 Sri Sankara Hall in Alwarpet is hosting one of its kind sale where books are being sold by weight.
Booksbyweight, a Mumbai based firm that sells pre-owned books by their weight has curated an exhibition cum sale here till this Sunday (Dec.15)
So one can pick up books, stock them in a carton, get them weighed at the counter and pay accordingly. This evening people flocked at the hall to avail this offer.
Books on sale include regular paperback books, hardback vintage literature (including those published in the 1900s), children's books – board books and children's fiction. Non-fiction books and coffee table books on photography, health, craft, academics, cookery, and psychology.
A kilo of fiction books is priced at Rs.100. And a kilo of children's books is priced at Rs. 300.
The sale will be on till this Sunday (Dec 15) from 10 a.m. to 8 p.m. At 281, Sri Sankara Hall, T.T.K Road, Alwarpet.