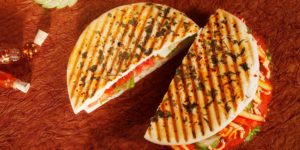 CK's bakery chain that is a unit of CavinKare has opened its new outlet at Kamarajar Salai in R.A.Puram near the Apollo pharmacy.
Situated in a small nook, the shop offers a range of cakes, and snacks (sandwiches, puff, samosas, and rolls).
While Chocotruffle and pink velvet (topped with rose petals) top the cake menu, their grilled panini including paneer tikka and butter chicken seems to be very popular.
A staff here says that the cakes and the quick eats are prepared fresh from the shop.
They are also offering special plum cakes (in various measures) for Christmas. A 250 g plum cake is priced at Rs.150.
At 73/75, Kamarajar Salai, R.A.Puram. Ph: 7823914363/ 9629943192.
Photo: Swiggy.com