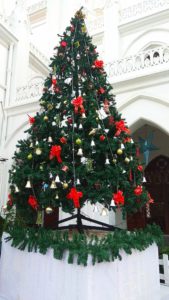 The buzz and colours of Christmas are showing up at neighbourhood churches and school campuses.
At San Thome Cathedral, the youth group has set up a beautiful Christmas tree. Says Fr. Alexander, the assistant parish priest here, "Our choir groups are visiting homes and singing Christmas carols in the evenings."
20 members of the church youth group are on these rounds now and have covered the houses of people of this parish. Sweets are given to children and in some houses, carol-singers get treated too.
The community at Our Lady of Guidance Church in R.A.Puram has plans to set up the Tree of Jesse this Christmas. Notes displayed here will explain the symbolism.
On Dec.22, the community here plans to conduct a special Holy Mass for sick people of their parish. Says Rev Fr Y. F. Bosco, parish priest, "People of our parish who are sick will be brought to the church for this Mass and later, gifts will be given to them."
Lit stars and buntings put up in the campuses of schools and church organisations in San Thome like St. Bede's, Rosary Matric, Dominic Savio, Archbishop's House, CSI St Thomas English Church, San Thome School and CSI St Thomas Thamizh Church create a festival scene here at night.
Similar scenes can be seen in church campuses in Mandaveli and in Alwarpet.