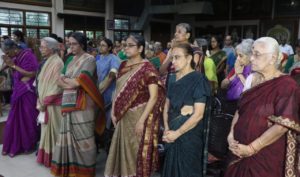 Over 75 people paid their tributes to the well-known Sanskrit guru Malathy Balasubramanyan who passes away recently. The meeting was held at Sringeri Mandapam in Mandaveli.
Malathy's students and classmates were at the meeting.
Malathy passed away on Nov.22 at her residence in Medavakkam. She was 76 years old.
She used to teach Sanskrit for women and children at Saraswati Giri Veda Patasala at Sringeri Mandapam, Mandaveli for several years. She was a resident of Warren Road in Mylapore for over 40 years.
Said Sulochana Ramani, a senior student of Malathy and the organiser of the meeting, "We said a silent prayer and then a few students and classmates of Malathy spoke about her."
Sulochana, who has been associated with Malathy for a long time says that Malathy was very humble and soft-natured. "She was an excellent teacher who encouraged each and every student to study Sanskrit and also take the exams," she said..
Malathy's family can be reached at 22463258/9940328516.