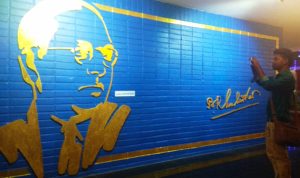 This wooden portrait of Dr.B.R.Ambedkar attracted people who came to pay their respects on his 63 rd death anniversary (Dec.6) at Ambedkar Mani Mandapam in R.A.Puram.
Many were seen taking pictures of it.
Set across a blue background, the portrait has got a fresh coat of golden paint now.
Artist Senthil, who is the secretary of 'Ambedkar Manimandapam Paramarippu Kulu' has sculpted it.
Several meetings and talks about the leader were held in the evening.
Ahead of this day, the entire mandapam located opposite to Sri Ayyappa temple was renovated.