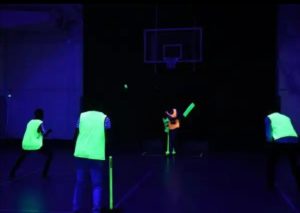 Rush Madras, Chennai's first sports facility for neon cricket has recently opened at R.A.Puram.
Neon Cricket involves playing cricket in the dark with glowing elements. Adithya, the founder of 22Yards, a cricket-based application for sportspersons, has conceptualized the sport.
Says Allan Jose, Business Development Executive at Rush Madras, "The idea struck us in a radio show while we were discussing the Neon Run Marathon that happens in India. Later, after some research, we applied the same to cricket."
Glowing stumps, ball, sportswear and bat coated with fluorescent green and orange colors are the only means of light in the indoor sports facility during a game of neon cricket.
Allan says that this will allow a player to focus better. "As the batsman will be able to see nothing except the ball and the other player's top clothing, he will be able to focus better on the game," he says.
"Often, players get affected by the glare of the artificial lights around an open ground. Here as we eliminate all forms of light, such a problem will not occur," he says.
The game seems to have become popular among the Corporates. "We have got a number of bookings from Corporate people. As neon cricket happens after 6 p.m., it is convenient for them to play after their work hours."
However, he says as the pitch is only 14 yards, it will not be suitable for professional players. The sporting arena also has the infrastructure for playing basketball, tennis, and badminton.
A maximum of 12 players are allowed for neon cricket. It is priced at Rs 2500 per hour on weekdays and Rs.3000 per hour on weekends. For bookings contact 22Yards at 9789832541.
Located at 24/47, 4th Main Rd, RA Puram, Govindaswamy Nagar, Raja Annamalai Puram.