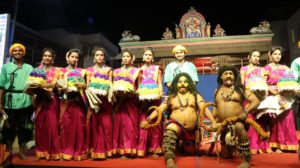 The mainstay of the annual Sundaram Finance MYLAPORE FESTIVAL is the main stage shows that are held on a stage in Sannithi Street quadrangle. They draw a large audience though eople move in and out of the space depending on what attracts them to stay on or not.
The past two evenings, the open-air performances have been varied. From folk music and dance to classical music and choir, these recitals have led from one to the other ending with the main show – a Bharatanatyam dance drama.
On Friday, when the Telengana folk troupe which is now performing at Dakshinachitra came back for a second recital, their spirited dance to recorded music got people rooted to their seats. The music may have spluttered and stopped but the artistes weren't despondent; they got into the groove when things were set right.
Through the weekend, there are a string of recitals 5.30 p.m. onwards. The highlights include a malkhamb display on Sunday and two Bharatanatyama dance productions each evening. One by guru Sheela Unnikrishnan and one by guru Sasirekha Raammmohan.
All shows are free and open to all.
All info at www.mylaporefestival.com