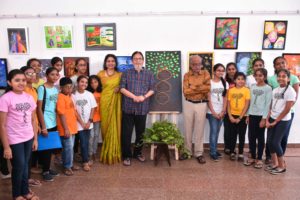 Once every two years, Mylapore-based senior artist Priya Natarajan curates an exhibition of the works of the children who learn art under her. The show for 202 was held last weekend at a gallery at C. P. Art Centre in Awarpet.
The art show was inaugurated by well-known cartoonist Madhan and senior journalist Sudhangan
Lil Studio was started in the year 1997 by Priya Natarajan. Children in the age group of 5 to 16 years are trained in freehand drawing and in handling various mediums of art.
The concept of the recent show was 'Evolution'. Says Priya in a note on this show; 'Evolution of art from cave paintings to tribal to modern, creative, abstract paintings were depicted. Children got to learn about our heritage and lineage and study the various art forms through this.'
The contact of Priya Natarajan is – priya.blackhue@gmail.com