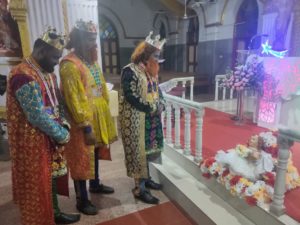 The feast of Epiphany better known as the feast of the three kings, in a way winds up the Christmas celebrations – a day when families dismantle the crib sets and bring down the buntings and the illumination they put out on the eve of the festival.
The feast marks the event when three wise men located baby Jesus and paid their respects to him.
This feast is celebrated in a special manner in many churches and so it was at Our Lady of Guidance Church in R. A. Puram.
At the Sunday evening Mass, three men donned the role of the kings and took part in a symbolic ceremony inside the church. After the Mass, they went in a procession around Lazarus Church Road , K. M. N. Street and Arulappan Street distributing gifts to children at home.
(The parish families who wanted their children to receive gifts from the 'kings' had earlier handed them over to the parish office)
A band stuck up the music and a choir kept singing as the processionists did the rounds.

– Report by Juliana Sridhar