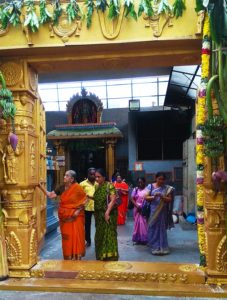 On the occasion of Vaikunta Ekadasi on Jan 6, hundreds of people visited Sri Vendanta Desikar Temple in Mylapore.
They arrived as early as 4.30 a.m. to get darshan of Lord Perumal passing through the paramapada vasal (door).
The deity of Perumal was decorated with pearls (Muthangi).
With an immense devotion, people walked through the paramapada vasal that was decorated with mango leaves and banana trees.
It is believed that anyone who walks through the door will attain salvation. This day also marks the beginning of Ra Pathu utsavam.
Outside the temple, hawkers sold flowers, vegetables, pooja items, and snake and ladder game sheets.
Said Muralidharan of Mylapore, who bought one game set, "To stay awake till tomorrow morning, (dwadasi), we play snake and ladder, and pallanguzhi throughout today night."
Similar festivities were also held at other Perumal temples in the neighbouhood.