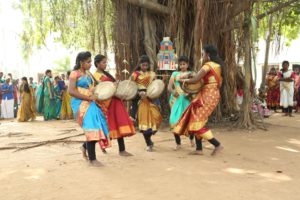 The campus of Dr. MGR – Janaki College for Women on Durgabai Deshmukh Road in R. A. Puram reverbrated to the sounds of a Pongal festival celebration on Monday, January 13 as the college community got together to celebrate the festival in the open air, before enjoying the holiday season.
One set of students had set up hawker stalls to sell knick-kancks, sweet-meats and sugarcane juice, sundal and sweets, bangles and bindis.
In another corner, one group began preparations to cook pongal.
And in the central zone under the tall trees, girls took turns to perform traditional folk music and dance – parai-attam, kol-attam, kummi-atta and karagattam.
The students were dressed for the celebration – many were in half-saris.