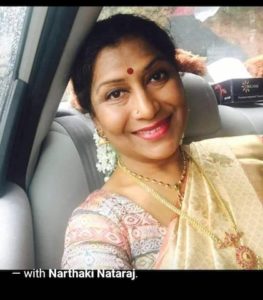 The month-long Chennai Kalai Theru Vizha will open this year's edition with a Trans-Festival co-organised with volunteer organisations Nirangal and Kattiyakkari and the events are to be held in Luz.
Titled Thirunar Vizha (A Rainbow Festival), the two-day event is to be held at Raga Sudha Hall on Luz Avenue ( alongside Nageswara Rao Park) on January 18 and 19 evening.
This part of the festival will feature performing arts, literature and poetry by transgender and LGBTQ artistes, writers and poets.
Carnatic music vocalist and social activist T. M. Krishna, a key motivator of this Vizha says, "The Rainbow Festival brings to Mylapore the talent of a community that has fought a long, and often lonely fight, for recognition and dignity. Eminent artistes like Kalki, Bharatanatyam dancer Narthaki Nataraj ( seen in the photo here) and Revathi will perform alongside less well-known but equally talented artists from north Chennai.".
A string of events are planned for each evening and then follows a panel discussion.
The events are open to all.