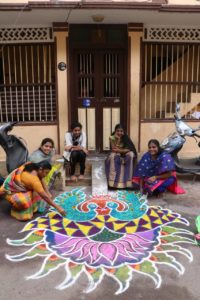 The festival of Pongal encouraged communities to put their hands together on Wednesday morning to celebrate it jointly. And this was evident in many zones of the Mylapore neighbourhood as the day broke.
In Pillaiyar Koil Thottam, a colony in Mandaveli women who reside here organised a common Pongal celebration. They cooked in a corner of the campus, decorated the place with sugarcane and buntings and shared the pongal that was made here.
In Visalakshi Thottam which is located on the fringe of Abhiramapuram, the youth of this colony brought music to the festivities with some of them playing on the parai and on drums.
In manny inner streets of Mylapore, women got together to design large, colorful  rangolis and kolams in front of their houses. One such group of women who designed a large rangoli on Adanjan Street in Mandaveli said they had spent close to an hour this morning to design their rangoli. ( featured in the photo here)
Church communities had also organized Pongal events in their campuses.
At Our Lady of Guidance Church, commonly known as saint Lazarus Church in R. A. Puram, after the morning Holy Mass, the community got involved in traditional games and sport held in the open, the campus decorated with sugarcane and rangolis for the occasion.
Sweet pongal that was prepared for the event was shared with church-goers.
Similar events unfolded in the campus of St. Thomas Basilica in San Thome – kolam contests were conducted and games for children after the morning Mass.
And on Luz Avenue, a man was seen taking around a decorated cow and greeting householders at their gates, perhaps an early lead in to the Mattu Pongal celebration to be held on the morrow, which celebrates cattle.