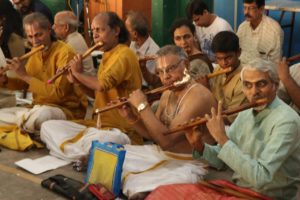 About one hundred Carnatic musicians, artistes and rasikas gathered at the Sri Thiagaraja Vidwat Samajam hall in Mylapore this Wednesday morning to celebrate the annual Thyagaraja aradhana, a day when Carnatic music artistes remember one of the greatest music composers – Thyagaraja – on the day he attained samadhi.
Vocalists, instrumentalists, percussionists and rasikas sat in rows at this hall which is located near Sri Madhava Perumal Temple in Mylapore and sang what are called the pancharatna kritis of Thyagaraja, in the manner artistes pay a musical tribute at the composer's samadhi in Thiruvaiyaru, near Thanjavur.
Today's aradhana in Mylapore began less than an hour after the aradhana ended at Thiruvaiyaru. Many artistes who could not make it to the aradhana in Thiruvaiyaru, held on the banks of the Cauvery river chose to take part in the Mylapore event.
Concerts are scheduled here through the day and on Thursday.