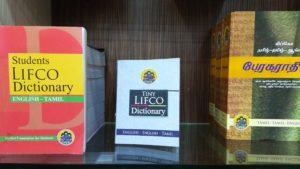 LIFCO publishers have recently shifted their shop from Ranganathan Street, T.Nagar to Kutchery Road, Mylapore. It is located diagonally opposite to Mylapore E1 police station above Fitness Plus gym.
Started in the 1920s by V. Krishnaswamy Sarma, the aim of Little Flower company or Lifco was to educate people, especially the poor.
Their popular books include dictionaries (English-English-Tamil, English-English-Telugu, and Tamil-Tamil-English), books on English grammar and religious books. Says Krithika, a regular reader of LIFCO books, "Each of the dictionaries was sold for as low as Rs. 2 in the 1950s. Now, also the basic dictionary is the only Rs.60. LIFCO dictionaries are a must-have due to its easily understandable language and the knowledge that it provides."
A picture dictionary for children is a new addition to their books. It is priced at Rs.200.
Religious books like Sundara Kandam, Valmiki Ramayanam, and 108 Sri Vaishnava Divya Desam are available for sale. People can also shop for religious gift articles and wooden pooja racks here.
At 213/38, Kutchery Road, Mylapore. Ph: 24638877/24641272.