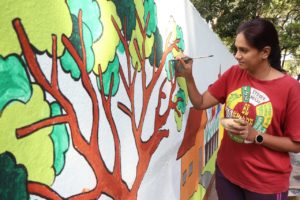 The residents of Luz Avenue lent a hand to a community effort on Saturday morning to paint the wall that runs alongside Nageswara Rao Park's rear side in the neighbourhood.
This effort was sponsored by LAWRA (Luz Avenue West Residents Association) and executed by the NGO, Karpam Korpom.
This NGO works with community groups who wish to brighten the walls that face streets and roads. Outlines of visuals are painted on the walls – which could belong to private households or of schools/colleges/campuses – and people are invited to fill in the visuals to finish the wall art project.
On Saturday morning, a number of children of this colony were seen enjoying their contribution to beautifying their own public space.
One of the major civic problems that community activists have faced here is the indiscriminate dumping of waste by households and shops at street corners.
Karam Korpom – SAPS (Stop Abusing Public Spaces) is a registered Trust which spreads awareness about the need to protect the environment through wall art and knowledge-sharing sessions.