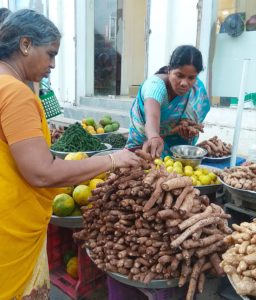 The seasonal maahaali kizhangu arrived a few weeks ago in Mylapore. Heaps of the brown tuber is now decked up at the hawker's shops on South Mada Street.
And maahaali pickle makers are thronging here to buy it in large quantities.
Says Malathi of Mylapore, "Maahaali pickle is a must-have in winter just like vadu manga pickle is for summer."
The pickle tastes best with rice and buttermilk, and upma, she says. "However, some people do not like it due to its pungent smell."
Explaining her recipe for maahaali pickle Lalitha, a shopper from Adyar says, "Peel the tuber, remove its root from the center and cut it into pieces. Then add salt, mustard and vatta molaga powder, and sour curd. Later, keep topping it with curd from time to time."
She adds that some people also add lemon juice and red or green chilli.
Known as swallow root in English, it is also believed to have blood purifying qualities.
A kilo of maahaali kizhangu is priced at Rs 350 at this hawker's shop near the office of Mylapore Hindu Permanent Fund Limited, South Mada Street.