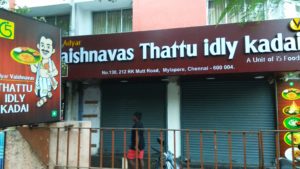 The recently opened I Five Foods, a franchise of Adyar Vaishnavas Thattu idly kadai has closed down. It was located inside the TNSCB commercial complex here.
But, it is not clear why the restaurant has shut down.
Started just a few months ago, it used to serve only in the evenings. Thattu idly and dosa varieties were its special food items.
Residents in the nearby areas believe it might have closed owing to poor patronage. Says Muniswamy, a resident of Mandaveli, "Low patronage could be the reason for its shut down. Also as it operated only in the evenings not many people knew about it."