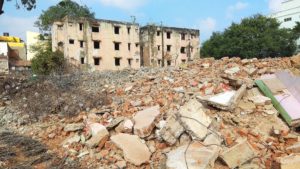 Contract workers of the Tamil Nadu Slum Clearance Board (TNSCB) have been demolishing the old housing blocks the Board had built many years ago at Velleswaran Thotam in R. A. Puram.
The Board proposes to build a new set of blocks in the same parcel of land.
Says a contract worker at the site said that out of 13 blocks in this colony, nine have been demolished.
A senior manager in charge of this project says that each block will have only three floors as was the case in the old blocks and each block will have a lift. This updated plan must be a result of a rethink on the Board's earlier plan to build many floors with no provision for lifts, a plan that was strongly opposed by the residents.
The construction is set to be completed in 18 months from now.
Ahead of the demolition, families at this colony were given a fixed amount of money and were asked to shift to rented houses till the construction of new blocks was completed.
However, some residents say that it has been difficult for them to arrange for alternate rented housing. Says Muthumarijagan, a resident, "Many of the residents are domestic helpers and we are unable to manage the high rentals and the advances that are demanded so life has become difficult."
Some have had to seek private loans or sell or mortgage their jewels to raise money to fund the alternate accommodation. Many have been seeking accommodation in and around R. A. Puram so that access to schools and places of work is manageable. Residents here told us that the rent for a small living space is Rs.8,000 and advance is around one lakh rupees.
TNSCB also has plans to carry out similar work in its colonies in Mylapore – in Kapali Thotam and in Visalakshi Thotam