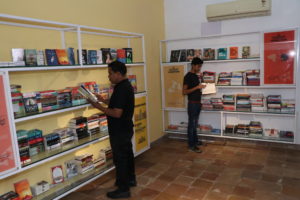 Popular magazines and books on fiction, fashion, and coffee table books sourced from Higginbothams are now stocked at Writer's Cafe in R.A.Puram.
The cafe opened recently at R.A.Puram First Main Road.
An entire room is dedicated to books that are arranged in racks according to genres. The genres range from humour and crime to travel and fiction, Indian and foreign.
The bungalow-turned cafe has a traditional look to it with a tiled roof, open spaces and court-yards. It is a venture of M. Mahadevan of Oriental Cuisines in collaboration with the well-known bookstore Higginbothams.
A variety of pizzas and pasta top the menu. The cafe also offers an all-day breakfast that includes French toast, bread omelette and fruit bowl. The fruit bowl is priced at Rs.90. A range of puffs, sandwiches and toasts are on the menu.
Cakes in various measures prepared fresh from their central kitchen in Taramani are available. One can also pick up home-made chocolates and cookies packed in tin boxes.
The proceeds from the sales of the items at the cafe go towards supporting underprivileged youth and victims of domestic violence. The cafe trains them in baking at Winners Bakery (also a venture by Mahadevan) at Alwarpet and provides job opportunities at various branches of this cafe.
At R.A.Puram First Main Road. Open from 9 a.m. to 11 p.m. on all days.