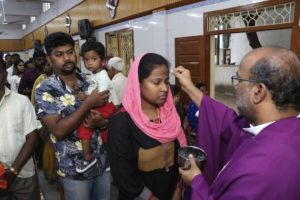 Churches in the neighbourhood marked Ash Wednesday with a special Holy Mass on Wednesday morning, February 26. The day marks the start of the Lenten season ( 40 days) in the church calendar and it ends with the commemoration of Jesus' death on the cross and his resurrection.
Church-goers who attended Mass this morning queued up in front of the priests to have a symbolic application of ash on their forehead reminding them that 'from dust you came and to dust you will return' and hence the need to reflect on life and make reparation for misdeeds and wrongs.
The ash was made by burning palms which had been used in a service called Palm Sunday, also a Lenten service; families take home the palm and place it on their altar.
Churches will have special services like the Way of the Cross during Lent.