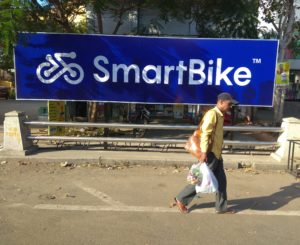 Soon, Chennai Corporation's cycle-sharing system 'SmartBike' will start operating at Luz Church Road, Mylapore.
A few days ago, its station was set up near Kamadhenu Kalyana Mandapam on this road. However, cycles are yet to be provided here.
A similar cycle station has come up on Durgabai Deshmukh Road near the bus stops near Dr MGR Janaki College for Women, R.A.Puram.
The cycle sharing system was first launched last year as part of Chennai Corporation's Smart City project. It allows users to travel from one place to another for a fee.
Says S. Arun of Mylapore, who is a regular user of smart cycles, "I'm very excited at this service. It will be useful to cycle to nearby places."
He suggests that a full-time security guard be appointed so that the cycles are not vandalised.

The other cycle stations in Mylapore are at Dr. Radhakrishnan Salai, near Citi Centre and on the Marina near Gandhi statue ( on the service road).
The smart cycles can be accessed via the SmartBike mobility App. Those who don't have the App may call 26644440. The operation will be available from 8 a.m. to 8 p.m. on all days.
The fee for the first 60 minutes is Rs. 5. For every extra 30 minutes, Rs. 9 will be charged. Users can also avail daily or monthly subscription.
The details are at www.smartbikemobility.com