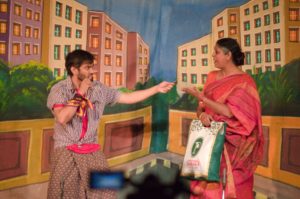 DANCE. MUSIC. DRAMA.
NEW TANGLISH PLAY
Director Hariramakrishnan J. launches a new comedy play called 'Yaman vs Woman' at Mylapore Fine Arts Club auditorium on March 1 evening.
The play is a contemporary and light take on the legendary story of Sathyavan and Savitri, of the wife's dedicated love for her deceased husband that makes the god of death (Yama) grant Sathyavan his life back. This play runs for 90 minutes. Two shows – at 4 pm and 7 pm. Tickets at Rs. 250.
DANCE ACADEMY'S 25 YEARS
Siva Foundation, a Kuchipudi dance academy run by senior classical dancer and guru Madhavapeddi Murthy is celebrating its 25th year with a medley of dance recitals at Narada Gana Sabha on March 1.
Mohiniattam by disciples of Gopika Varma, Bharatnatyam by disciples of Madurai Muralidharan, Odissi by disciples of Dr. Archana and Kuchipudi by disciples of Madhavapeddi Murthy, who is a student of late guru Vempati Chinna Satyam, has performed in over 60 countries and has been dancing with actor-dancer Hema Malini in her productions for 27 years. The event is open to all. 6 p.m. onwards.
REMEMBERING MAESTRO BRINDAMMA
Carnatic music artistes and rasikas will get together to remember and recall the music and life of Carnatic music great, late Brinda at an event at Arkay Centre, Luz. The evening starts at 5 p.m. – a concert by Thiruvarur Ganesh, a talk by Kiranavalli Vidyashankar and a concert by Rama Ravi and Nanditha Ravi. On Feb.29. Open to all.
SHOPPING
SALE OF WOMEN'S CLOTHES
Hamsas Boutique is hosting its sale of cotton collections in dress materials, sarees, suits and kurtis. On sale is a range of block printed, embroidered, digital printed clothes. Clothes suited for summer. At C. P. Art Centre Hall, Eldams Rd., Alwarpet. On till Feb.29, daylong. Contact – 9843322110
CLOTHES FROM HANDMADE FABRICS
This is a pop-up clothes show that showcases fabrics and textiles that are traditional in production and design. KASCON and Calico are presenting this show-sale – of Karunganni cotton, yarn, yardage, shirts, towels and also garments made from cotton in West Bengal. On till March 4 at Sarangi store in Alwarpet. Call 95000 16019.
MISCELLANEOUS
TALKS ON TEMPLE ARCHITECTURE
Noted writer and scholar Dr Chithra Madhavan launches the first of a series of 12 talks which focus on South India's temple architecture and sculptures. This Sunday, March 1, she talks on Chalukya era heritage. This event is ticketed. At Wandering Artist, R. A. Puram. Rs.399. From 11 a.m. onwards. Call 98401 11425,
YOGA FOR WOMEN
Yoga-Darshini is conducting a free yoga class exclusively for women on March 4 (Wednesday). Timings: 6 to 7 am at Tiruvengadam Street, Mandaveli. Registration compulsory. Call 98842 81527.
STUDY IN NETHERLANDS
Beyon Education is organising an information session for students who would like to study at Netherlands. On March 7 at Abiramapuram. Students can meet the Indian representatives of several universities to gain insight about the application procedures, scholarships, career/research and post admission requirements. At 4, Sree Lakshmi Apartments, 195A, St. Mary's Road, Abiramapuram. 3 p.m. onwards. RSVP at 9500124679 or e-mail atabhinay.reddy@beyoneducation.com.
V-EXCEL'S ANNUAL DAY
V-Excel Educational Trust will be celebrating its annual day on March 6 at Narada Gana Sabha, Alwarpet. The theme of the main cultural event is 'The Last Leaf of Lorien', based on an original fairytale co-written and co-directed by the students. Music, movement and drama, which are used at therapeutic tools, will bring the story alive. The chief guest is G. Srinivasa Raghavan, president and CEO, TVS Automobile Solutions Limited. At T. T. K. Road, Alwarpet. 4 p.m. onwards.  Open to all.