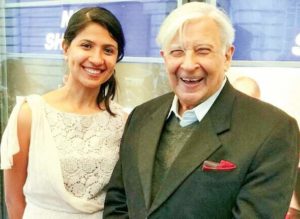 FILM
DOCU-FILM ON FAMOUS ARTIST
Sruti Harihara Subramanian's docu-film on the renowned artist Krishen Khanna, 'A Far Afternoon – A Painted Saga' won a national award. This film is being screened on Feb.22, 6 pm onwards at Asvita Gallery, 2nd Street, Dr. R. K. Salai, Mylapore. The film, 72 mins long traces the artist at work on his masterpiece painting which was created over 6 months and on Khanna's life experiences and influences on his art. The film is in 5 parts. Open to all.
DANCE. MUSIC
—
CONCERTS BY YOUNG DANCERS
Natyarangam presents young classical dancers this weekend at Narada Gana Sabha mini hall, Alwarpet.
On Saturday, 6 pm – Bharathanatyam by Abinaya Balachandran ( disciple of J. Suryanarayana Murthy & Bragha Bessell); at 7.30 p.m. –  Bharathanatyam by  Kameshwari Ganesan ( disciple of  Sheela Unnikrishnan)
On Sunday – 6 pm –   Bharathanatyam by Suhasini Koulagi (disciple of Karunasagari V.) and at 7.30 pm –  Bharathanatyam by Sanath Kumar and Archana Raja ( disciples of Sheejith Krishna ).
CARNATIC MUSIC LEC-DEM
Carnatic music guru Seetha Rajan shares her perceptions and musical insight into the essential aspects of classical music at this lec-dem. This is beneficial to music students, teachers and music rasikas.
Venue: Ragasudha Hall, Luz. On 23rd February. Time: 10.30 am to 12.30 pm Admission is free. This session will deal with the ragas Abhogi, Sriranjani,  Ritigaula, Kãnada and other allied ragas.
MADURAI MANI IYER MUSIC
Madurai Mani Iyer Rasikas Association hosts a special Listening Session of the music of Madurai Mani Iyer.  Chief guest: Vidwan R. K. Shriramkumar (renowned violinist & guru).
On Sunday 23rd February – 4.15 pm to 7.30 pm. At Vivekananda Hall, P. S. High School, Mylapore. High Tea: 4 pm onwards
REMEMBERING PALGHAT MANI IYER
This event pays tribute to the late mridangam maestro. Prof. T. N. Krishnan will talk about his experiences on the concert stage and off it with the Carnatic music greats, Ariyakudi Ramanuja Iyengar and Palghat Mani Iyer. Gurusmaranam is a Trust that celebrates Mani Iyer and hosts this event. On Feb.23, Sunday, 6 p.m. onwards at Raga Sudha Hall.
WORKSHOP
ART FOR BEGINNERS
Acrylic landscapes for beginners is a workshop by Alamelu. Feb 22, Saturday
Time: 2:30 pm to 5:30 pm. Venue: Madras Art Store, Alwarpet. Contact:  9790995771
This workshop is for people to learn painting landscapes with acrylics. Participants will take home a finished artwork.
THEATRE.
——
Y. GEE. MAHENDRA PLAY
UAA presents 'Idhu Nyayama Sir', a Thamizh play under the auspices of Kartik Fine Arts at Narada Gana Sabha on Feb.22, 7 p.m.