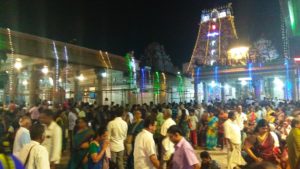 Thousands gathered at Sri Kapaleeswarar Temple on the occasion of Sivarathri on Feb. 21. Even as many stood in queues waiting for their chance to get a glimpse of Lord Kapaleeswarar, a steady stream of devotees kept coming in after 8 pm.
The crowd was huge as pradosham also fell on this day.
At the Navaratri mandapam, beautifully decorated deities of Lord Kapaleeswarar and  Karpagambal were placed. Annadhanam including puliogare, ven pongal and lemon rice were being distributed.
With vibhuthi on their foreheads, some young boys meditated near the temple office.
People who were fasting and staying up all night chose to sit inside the temple 's premises and recite slokas of Lord shiva. Said Savitha, a 73-year – old devotee from Adyar, "We fast throughout the day of Sivarathri and end only at 7 pm tomorrow."
Mylapore police was deployed in large numbers to manage the crowd. The local coffee shops and restaurants were kept open till late night to help people stay away from hunger.