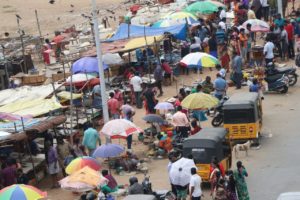 Madras High Court has asked Chennai Corporation to take steps to clean up the fish hawkers who occupy Marina Loop Road near Nochikuppam. It has said the civic body must build a fish hawking market and move the hawkers, mostly women to that place.
The court took a stiff position after many hearings in a case filed by a fishermen's body.
As of now, the market continues to operate.
The case has brought to the court many issues related to the Marina – the proliferating hawkers, the unhygienic conditions, the busy and popular roadside fish market and Chennai Corporation's improvement plans.
The civic body now says it has enumerated the hawkers and intends to give them all pre-designed carts, charge a rental and act against those who misuse the facility on offer.
The civic body also says it plans to construct a pavement on the sand side of the Loop Road so walkers, joggers and beach-goers can use it till the far south end.
Fisherfolks of the area say that the road was laid using what is their traditional fishing and related work zone, that further changes must not be made that affect their professions of fishing and selling fish. They also question the move to place all hawkers in one central built-up fish market, saying this will bring down business.
Since the fish hawkers use both sides of the Loop Road and spill on to it, thus affecting vehicular movement, the court and the civic body want the hawking here to end.