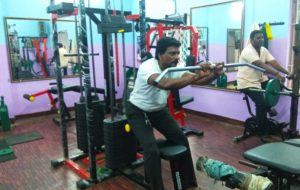 With a fresh coat of paint, large mirrors and new exercise equipment the Chennai Corporation's gymnasium located off Kamarajar Salai, opposite the Darmambal Park in R. A. Puram has a new look.
It has recently been spruced up. Mylapore MLA R. Nataraj has supported the improvement – some Rs.5 lakhs from the MLA constituency development fund was alotted for this work.
The gym has a regular clientele now.
New exercising equipment which helps you work on each part of the body like the shoulders, upper body, and hamstrings has been fitted here. Two cycles have also been installed. Outside the gym, poles are set up for people to do pull-ups.
Says Vasu, a resident of Greenways Road who is a regular here, "Men from areas like Velleswaran Thotam, Bishop Gardens and Pillayarkovil Thotam who cannot afford to go to private gyms make use of this facility."
Earlier, the gym was uninviting – lighting was poor, there were no fans and the flooring was worn out. "Now that the gym is well-fitted we are able to exercise longer," says Mukundan of Mandaveli.
Adds Venkatesh, a resident of Mylapore, "Modern fittings like large mirrors and the equipment encourages people here to be serious about fitness."
The gym is maintained by Chennai Corporation's ward 173 unit. Open from 5 a.m. to 10 a.m. and from 5 p.m. to 10 p.m.