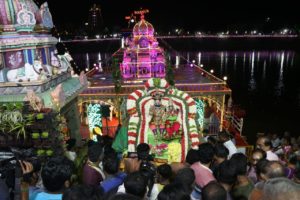 Hundreds of people turned out for the first day of the annual Thaipoosam teppam festival being held at Sri Kapaleeswarar Temple Saturday evening.
People began heading to the temple from 5 p.m. onwards and North and South Mada Streets witnessed traffic jams because of the thick stream of people headed to the temple and later, to the temple tank.
It was well past 7.30 p.m. when the procession with the palaquin carrying lord Kapaleeswarar and the goddess, heavily decorated for the festival started from the temple campus, went down East and South Mada Streets and then into R. K. Mutt Road to enter the tank from the western side.
By then, there were hundreds of people seated on the steps of the tank. The illumination on the teppam and across the tank and in the mantap at the centre of the tank created a magical effect as the lights reflected on the water.
As the teppam made slow rounds of the tank, people filled in and when the last of the five rounds was over it was well past 9 p.m.
The teppam will continue on Sunday and Monday, 7 p.m. onwards.