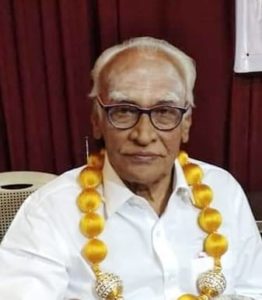 V. Sanjeevi, 86 years, who retired as Assistant Head Master and Thamizh pandit  of P. S. Hr Sec School, Mylapore passed away on Feb.5.
Sanjeevi was a popular pandit who had a way of taking language classes and was known by generations who studied at P. S. School. He pioneered the idea of bringing out Thamizh Notes and Guides which helped students who were weak in the language.
Family friends say he compiled the Thiruppugazh Madani under the banner of Thiruppugazh Anbargal and had written lots of books on Thamizh literature.
He is survived by his wife Santha Sanjeevi, sons Ramesh Kumar and Suresh Kumar and their families.
Family's address – Flat 3/D, Green Inn Apartments , 7th Avenue, Besant Nagar, Chennai 600090.
Phones: 8056168756, 9080315480
– Reported by C. S. Balaji
– You too, like Balaji can share local stories and photos with Mylapore Times