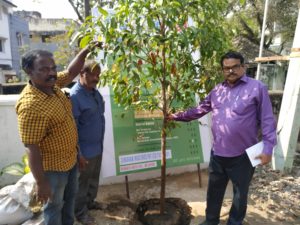 Leith Castle Residents' Association (LECRA) in San Thome, keen to increase the tree canopy in the neighborhood arranged for saplings to be planted in the area on Feb.8.
This civic activity was conducted in association with the local unit of Greater Chennai Corporation (GCC); 25 saplings were planted across three streets of Leith Castle – Centre, South and North.
Pradeep, executive engineer and Iniyan, assistant executive engineer from GCC were the special guests and they kick-started this initiative by planting the first sapling.
Thanks to the generosity of  Sundaram Industries Pvt Ltd (TVS Group), the community here received 25 saplings. The TVS Group also provided men to help in the planting of the trees.
Also, Bharathi Mess has come forward to watering the plants and trees in these three streets regularly.
LECRA has lined up a series of projects to make the neighbourhood a clean, safe and green area.
As of now, a interim committee manages LECRA's affairs. The office bearers are – president – Bernadette John, secretary – Venkat Raghavan M., joint secretary – Jayaprakash Ethirajulu and treasurer – Merwin Stellas.
Contact Venkat Raghavan – 7299992758
Report and photos by Venkat Raghavan
** You too can share news and photos of community / civic events held in your area with Mylapore Times. Mail to – mytimesedit@gmail.com