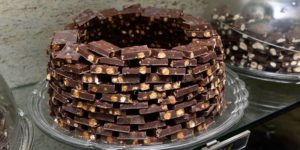 Heard of green chilli flavoured ice-cream? Well, you get it at this new place in San Thome.
It is a franchise of Ooty Chocolates, a retail chain outlet known for its home-made Ooty special chocolates and ice-creams.
It opened recently at San Thome High Road, opposite Apollo Pharmacy here.
A mix of sweet and spice, this ice-cream however can only be had in small amounts. Says T. Tilak Kumar, proprietor of this brand, "Due to its spicyness, we do not recommend a person to have one full scoop of this ice-cream."
The outlet first started at Banglore in 1998.
He says the chocolates are completely hand-made with fresh ingredients. "No preservatives or machine process is involved. Our products are transported fresh from our unit in Bangalore."
The chocolate varieties range from fruit and nut, almond, cashew, and dark chocolates. Says B. Balaji, the franchisee of the San Thome outlet, "We also have chocolates made of premium apricots, walnuts, and dates."
As they are home-made, Tilak says their shelf life is just for a month. A number of home-made ice-creams in different flavours are available.
The shop also offers a facility to gift wrap the chocolates in colourful tin boxes, small pouches and baskets. 100 grams of home made chocolate varieties are priced in the range of Rs.100 to 150.
At 64, San Thome High Road, Mylapore. Ph: 42665252, 9840275232. Timings: 10 a.m. to 11 p.m.
Photo courtesy: Ooty Chocolates