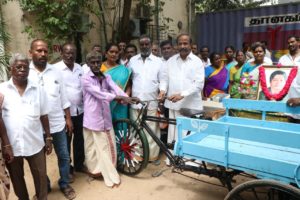 Mylapore MLA, R. Nataraj and his team of AIADMK party cadres got up a function on Monday, February 24 to celebrate the 72nd birth anniversary of late J. Jayalalithaa, the AIADMK leader and former state chief minister.
The event was held in the campus off C. P. Ramaswamy Road where the MLA has his office.
A cake was cut and pieces distributed among those who were at this event. The MLA also handed over a tricycle to a needy man of the area.