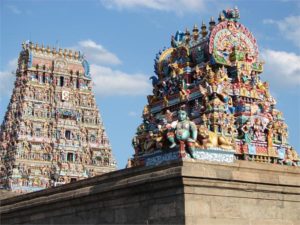 The management of Sri Kapali Temple has highlighted the dress code for people visiting this wellknown temple in Mylapore.
Though the code has been in existence for long, a notice elaborating the guidelines was set up at the eastern entrance of the temple recently.
It lists the code that men and women must follow here.
Many temple-goers have welcomed the temple's effort to re-state the dress code, stressing that people must be formally attired at a religious space.
Some though suggested that provision could be made to provide veshtis or long skirts to foreigners who visit this temple which is on top of the 'must visit' sites in Chennai. "If veshtis are sold for say 100 rupees to foreigners or tourists I am sure they will buy them for the visit," said one woman who is at the temple almost every day.
WATCH VIDEO of people's views on the dress code – video posted on FaceBook page of Mylapore Times