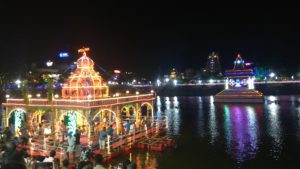 It was a visual delight for devotees as the teppam made rounds around Sri Kapaleeswarar Temple tank on Monday (Feb.10) evening.
Lord Singaravelar and his consorts Valli and Deivanai were placed on the float that was adorned with colourful serial lights, banana trees and flowers.
Earlier, in the evening, water was pumped into the tank to increase the water level. The float made nine rounds around the tank. Unlike, the past two days, as it was a working day on Monday, the crowd was small. However, as the teppam started making a few rounds, it got bigger.
Dozens of police personnel and fire and rescue personnel were deployed for security purposes to prevent any untoward incident. The temple's gopuram and tank's surroundings have been illuminated for the celebration.
With this, the three-day Thai poosam teppam festival has come to an end.