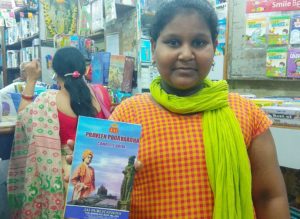 With the public and annual exams around the corner, parents and students are thronging Mylapore's bookstores to buy books that will help school students prepare better.
While students of classes 10, 11 and 12, who will attend the Board exams are keen on buying sample question paper books, for children of other classes, popular guides for subjects like science and math seem to be the priority.
These books are available for sale at Vijaya Stores at South Mada Street and at Ravi Book House, Mylapore.
At Ravi Book House, CBSE sample question paper books of popular authors – Oswaal and Arihant are fast selling. The demand is high as CBSE Board exam for class 10 and 12 is starting from Feb.15.
The sample question paper books are available for all subjects for classes 9 to 12. Says a staff at the store, "The much-awaited maths guide of R.D. Sharma for classes 10 and 12 will arrive next week."
Ravi Book House has temporarily shifted from South Mada Street to a place opposite Sir Sivaswamy Kalalaya School, Sundareswarar Street. The store also provides free door delivery of books. You can WhatsApp to 9941022440 to avail the facility. Timings: 9.30 a.m. to 9.30 p.m.
Vijaya Stores is located at 24, South Mada Street, Ph 24640007. The staff here suggest calling them to check the book's availability before arriving here. Timings: 9 a.m. to 9 p.m.