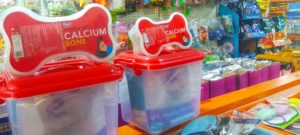 Karuppiah's Pet Paradise, the recently-opened store at Musiri Subramaniam Road, Luz is offering a service to bathe pets.
It is a unit of Karuppiah Pharmacy, whose branches are in many places in the neighbourhood.
The promoters say that many families spread across Luz, C. I. T colony and Alwarpet own pets and there is a need for this service. Says a staff at the store, "To help pet owners who may not find time to bathe their pets, we introduced this service. A trained person will bathe them. "
Popular pet food brands like Pedigree, Whiskas, Me-O and Royal Chain are sold here. Toys, accessories and medicines for pet dogs and cats are also available.
The 'pet bath' service is priced at Rs. 400. People have to bring their pets to the Luz space; home service is not offered. Soon, the shop will introduce a 'pet spa' service.
At 39, Musiri Subramaniam Road, Luz. Near St. Isabel's Hospital here. Ph – 43859444/8939802936.