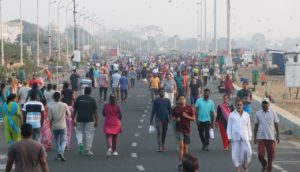 The large numbers of people on Marina beach has surprised a lot of people who wonder why advisory on the corona virus is not being followed by people.
This morning, a video shot by Mylapore Times shows at least 1000 people walking, exercising or taking in the fresh air on the service road of the Marina near the Light House.
A mounted police of Chennai Police was also seen posted on this road.
The video posted on the social media page of Mylapore Times evoked a large stream of comments, mostly critical of the attitude of the people at the Marina in this time.
The state health secretary was tagged to this video link, with advocate Sanjay Pinto asking her to invoke the Heath Act provisio to curb people's movement on the Marina.