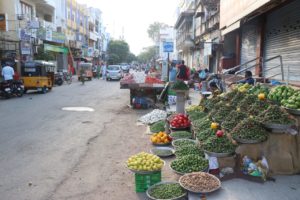 The ever-buzzing South Mada Street is not as it always is every evening. On Friday evening, at about 5 p.m. while the hawkers had spread their vegetables, fruits and coconuts on the pavement, there were hardly any shoppers at that time.
And hawkers were not expecting a big rise later in the evening as people are choosing to stay indoors.
Cafes are also cutting down on their operational hours. Ratna Cafe here put out a notice saying so. Clients are thin in many such places and cafes aren't finding it worthwhile to let the a/cs and lights run and their revenues dent.