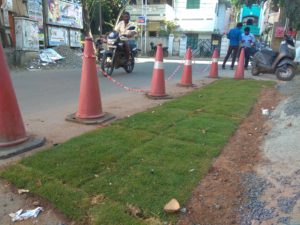 To let rainwater collected from storm water drain (SWD) to flow into temple tanks or other water storage areas, Chennai Corporation is planning to develop an efficient SWD system.
On a trial basis, a part of this SWD network has been built on Mosque Street near Chitrakulam zone. The civic body has used German technology for this project.
The model involves a grass bed, and two layers of pebbles (big and small), to filter the flowing water.
Says Vivekanandan, AE of ward 124, "Beneath the pebbles, a pipe has been laid connecting this SWD facility at Mosque Street to the Chitrakulam tank. Many local streets including Kesavaperumal West Street, Mandaveli Lane, Nallappan Street, Chitrakulam West Street and Kesava Perumal South Street are connected to the network."
So whenever it rains, he says, the excess run-off water from these streets will be led to Chitrakulam tank. Based on the success of this model, Chennai Corporation is set to replicate the same in other parts of the city.