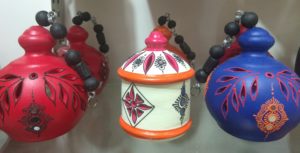 Quirky handicrafts, home decorations, handmade soaps and agarbattis are some of the highlights at this new store in Mylapore. A unit of NGO Sevalaya, SevaMart, recently opened at East Mada Street, Mylapore.
For the past 32 years, the NGO headquartered in Mylapore has been supporting the underprivileged youth, senior citizens, and school dropouts through free education, shelter and employment opportunities.
Now, to expand its services and provide better facilities for their inmates, the NGO is selling products made by them at this store. Spread across 1600 sq ft, the store also sells cloth bags, bakery items and organic veggies and greens.
Says V. Muralidharan, founder and managing trustee of Sevalaya, "We provide vocational training to underprivileged youth in tailoring, baking and organic farming, so they could make these items."
The proceeds from the sale at the store will be used for the NGO's charitable activities.
Sevalaya has also collaborated with traditional artisans from Pondicherry, and Kanchipuram to sell handicrafts. Says R.Ganesh, the associate vice-president of Sevalaya, "We procure the handicraft's base products from traditional artisans. Later, the youth at our community college paint and design them. It is then brought for sale at the Mylapore store. This way, we are also able to provide an employment opportunity for these artisans." One cannot miss the innovative mud pots decorated with intricate mehendi patterns.
The store also sells rosewood paintings, kolu dolls, Tiruppur cotton T-shirts. Price of shirts starts from Rs.250. Organic veggies and greens will be available for sale on Tuesdays and Fridays. Sevalaya's city office is at P.S.Sivaswamy Salai, Mylapore.
SevaMART is at 15/11, East Mada Street. Ph: 7299564411/ 9094766806. Timings : 10 a.m. to 9 p.m/ On all days