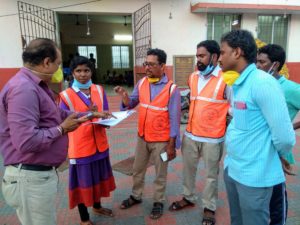 Chennai Corporation has planned to provide employment opportunities to homeless people it rescued in the recent past. The civic body says it will be carried out post lockdown when life returns to normalcy.
Following the lockdown, the Corporation along with social workers have been rescuing homeless and daily wage workers from across the city.
Some 120 have now been sheltered at the Corporation's shelter in Mandaveli and others are at its community halls at Karaneeswarar Pagoda street and C.P.Ramaswamy Road.
Through the years, the Corporation has been providing employment opportunities to homeless people at all its shelters.
Says V. Rajesh, Assistant Coordinator of Chennai Corporation, who heads the rehabilitation project, "Now, we have planned to extend the same to homeless people we rescued recently. The first step is to rehabilitate and re-integrate them with society. Then, we will identify their skills/ areas of interest. Based on that they will be trained and provided jobs."
Rajesh says that many inmates have already shown interest. "We have started making a list of their names and areas of interest. After lockdown, we plan to start this project, " he says.