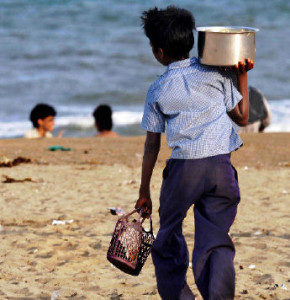 Mylapore MLA R. Nataraj had an urgent request, rather a plea yesterday. Safe passage for the sundal selling boys on Marina Beach.
These boys, some 40 odd hail from south central Tamil Nadu and are employed by a few sundal making units in the city and they have been at it for ages.
Since lockdown day, the boys had to be restricted put hosting them for days on end were a challenge for their guardians.
They contacted the MLA to help arrange passes for the transport they are arranging to pack the sundal boys to their home town.
Says the MLA, "They are ready with a mini bus but want a pass."
Life is topsy-turvy in virus times.
Photo: Varun K N